About 法人代表简介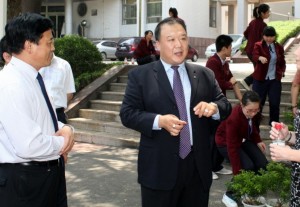 First Han International Economic and Scientific LLC was established in 1996, with the
name Yuanhan Economic and Trading Company in California. The president of the company,
Mr. Feng Xue Sure, has been a successful businessperson, educator and social worker
in his service to the society over the last two decades.
Feng Xue Sure started his first company Changchun Yuan Han International Economic
and Trading Company back in 1995 in China.
Feng Xue Sure, graduated in Jilin University with a BA degree on English Literature
and Linguistics in 1993. Moreover, he finished his ARC (Alternate Route to Certification)
program in 2008 with CT Higher Education, and obtained his teaching certificate in Connecticut, Rhode Island, and Virginia.
Feng Xue was elected as the president of the 20th Student Government of Jilin University in 1992. He was the Vice Chairman of the All-China Students' Federation (ACSF) in 1992.
He was also a teacher in Stonington Public Schools, and multi-state Virtual High School besides running his own First Han International Language School.
Feng Xue Sure is an active Rotarian and he was the president of the Rotary Club of Stoningtons from 2013 to 2014.
元汉国际经济科学有限责任公司于一九九六年在美国成立,但它的前身长春国际经济贸易有限责任公司早在一九九五年已在中国成立。在过去的二十年中,公司的总经理薛锋先生一直是一位活跃在社区的成功商人、教育工作者和社会人士。
薛锋于一九九三年毕业于吉林大学,并获英语文学语言学学士学位, 他于二零零八年完成康州教师培训并获得美国康狄涅格州、罗德兰岛州和弗吉尼亚州的正式教师证。
薛锋曾被选为吉林大学第二十届学生会主席。在一九九二年,薛锋被选为中华全国学联副主席。
现在,他除了经营元汉国际公司外,还是斯都宁顿公立校区和跨州网上高中的正式教师。
薛锋还积极叁与社会活动,是2013-2014年扶轮国际会社斯都宁顿及北斯都宁顿分社的会长。
http://bcrbszb.chinajilin.com.cn/html/2009-08/06/content_1838740.htm
Tracy Bazydlo wrote on January 30, 2014
to Mr. Feng
This Mandarin class takes commitment and hard work, congratulations to all of your students who have stuck with it.
On a personal note, I know that the discipline it takes to master this language has had a profound effect on my son. He has taken what he has learned in this classroom and used it to better himself as a student in all his academic challenges. I had personal doubts when Zach chose Chinese but he has proven to me (and himself I think) that he could (and did) succeed in this choice. This experience has helped opened his eyes to all he can accomplish with hard work, dedication, and thinking outside the box.
Well done Mr. Feng, you are an excellent teacher and role model. I thank you for your dedication and good humor.
Tracy Bazydlo
Aaron Czarnecki on October 23, 2013
I have worked with Feng for four years at Stonington High School. Over those years, I have observed Feng inspire and change the lives of young minded students in the foreign language area like no other. Students who knew nothing of Chinese language walked out ordering Chines food at a local restaurant I was attending one day. I was so impressed ! I had to ask who did you learn from? They replied "Mr. Feng". I would highly recommend Feng as Principal at First Han International and can assure you students will walk away with a diverse and culturally rich new skill set. ~ Aaron Czarnecki
Rosemarie A Russo Owner/Bookkeeper at RAR Consultants on 10/10/2013
He is a dedicated professional and Rotarian.